We are very excited to share that Birmingham Mind, alongside our partners Living Well Consortium have launched a new Wellbeing space and Crisis Intervention service at Birmingham's first wellbeing café.
With funding from NHS England, grounded. officially opened its doors in Selly Oak this September, paving the way for more accessible mental health support.
The first-of-its-kind café will offer visitors a place to relax, recover, and recoup – with a host of community events and workshops, as well as group and one-to-one therapies on offer. Open daily, grounded. is set to be a wellbeing hub for the Selly Oak area, which is home to over 25,000 residents.
Living Well Consortium and Birmingham Mind – who already provide extensive free mental health support across Birmingham and Solihull, including a 24/7 helpline, evening crisis intervention services, and tailored practitioner-led programmes – have embarked on this joint venture to benefit both students and the wider residential population of Selly Oak, and the surrounding areas.
As of Monday 18th September 2023, Birmingham Mind will opening our evening Crisis Intervention service, known as Talking Space in this new venue. A safe place for local residents and students in Selly Oak to access free face to face mental health support between 5pm – 11pm. Initially this service will be available Monday – Wednesday at Selly Oak, to compliment our service already in Northfield between Thursday – Sunday.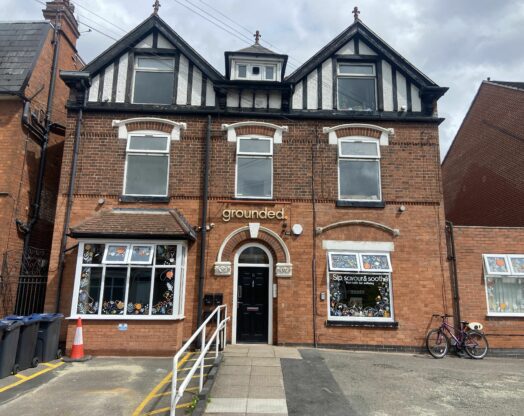 "The NHS has boosted its mental health provision but there remains a huge demand and pressure on its services. grounded. is a fantastic example of how we can really place support at the heart of a community: from students and local families to home-workers looking for some respite. grounded. will be a place to bring a laptop or book, meet with friends for a catch-up, or simply stop off for lunch. It will also have dedicated and trained mental health practitioners on-site, offering both individual and group support, as well as a programme of events and workshops focused on wellness.

What's more, grounded. will transform into a Birmingham Mind's Talking Space, providing a safe, welcoming place, where students and locals can go outside of normal hours from 5pm instead of calling other urgent services if they're feeling emotionally overwhelmed or are in a mental health crisis and need support."
The venue offers the perfect place to sip and a savour a cuppa, provided by the brilliant team at Evolve, and provides the perfect space to enjoy a sense of calm during the busy day, alongside the much needed out of hours service for this part of the city.
For more info;
Visit grounedcafe  – for more information about this new service, opening times, directions etc
Visit Talking Space to find out more about our service.